Our PLAYbook
Owen is a loving, bright, and active 3 year old. Anyone who meets him can see the joy in his heart.

More
Connect
If you've received a Bag of Fun in the past, we want to hear from you! Send us a note at tammyk@bagsoffun.org so we can spread #powerofplay!
Bring your friends, bring your kids, bring your friends' kids! Get your tickets today! t.co/8NqM3ObJdc t.co/daLq7DSIQi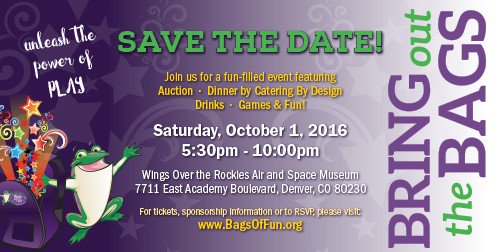 Join us…
Celebrating 12 years of providing smiles to children fighting cancer and other long-term illnesses through our Bags of Fun program, Bring Out the Bags is a fun-filled, family event in Denver. October 1st, at Wings Over the Rockies, the event features a fun, carnival setting for children of all ages, a silent and live auction. Live entertainment, food and beverages are provided.
The Power of Play