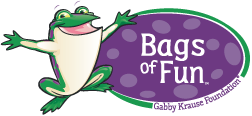 Bags of Fun
Gabby Krause Foundation
7200 S Alton Way, b-130
Centennial, CO 80112
Gabby Krause, an amazing 6-year old, made the original Bag of Fun® to stay busy and happy during long hospital visits. It was Gabby's wish that every child at the hospital could have their own bag.
Since June 2004, we have delivered more than 3,600 bags in Colorado alone thanks to your support.
---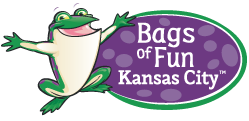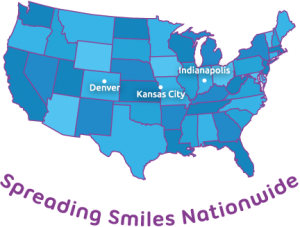 Bags of Fun Kansas City
6320 Brookside Plaza Suite 514
Kansas City, Missouri
64113
Bags of Fun Kansas City was started to honor the dream of Gabby Krause, our friend, whose wish was to allow every child who is suffering from cancer and other long term, life threatening illnesses to receive a Bag of Fun®.
Bags of Fun KC delivers to children who are fighting cancer, leukemia, facing transplants, and dialysis at Children's Mercy Hospital plus children facing those long term life threatening illnesses and sickle cell anemia at the University of Kansas Hospital.  We also deliver to KC area children who are fighting the above illnesses and being treated elsewhere in the country.
As of November 1, 2014 we are proud to announce that Bags of Fun KC will be serving the Springfield, Missouri area as well. We will deliver to children from the Springfield area who are being treated at Mercy Kids in Springfield and other hospitals. To learn more about how you can help our Springfield area program, please email Jennifer Crumpley at jennifercrumpley@gmail.com or call her at 816.830.9013
---
Tatum's Bags of Fun
P.O. Box 90290
Indianapolis, IN
46290
Soon after being diagnosed, Tatum received her Bag of Fun® filled with toys and activities from the Gabby Krause Foundation.
The Bag of Fun® not only helped Tatum get through the long days, but it was gladly shared by Tatum with many other pediatric cancer friends. It is Tatum's wish that children battling cancer in Indiana receive their very own Bag of Fun®.
---
Bags of Fun and Zane Beadle's Foundation
The Zane Beadles Foundation sponsors Bags of Fun for children in the Zane Beadle's Foundation rooms at Ronald McDonald House in Salt Lake City, Utah.
---
Bags of Fun, Texas Children's Hospital Special Infectious Disease Unit
The Gabby Krause Foundation sponsors Bags of Fun for children admitted to the Special Infectious Disease unit at Texas Children's Hospital in Houston, TX.
For information regarding affliliate opportunities, contact Tammy Krause. Tammyk@bagsoffun.org
---
Bags of Fun California
Bags of Fun California is in the beginning stages of expanding the Bags of Fun program to the Bay area. Bags of Fun bring joy laughter and relief to children fighting a life threatening disease or condition. Volunteers from the Harker school have created a Junior Board to help raise money and awareness for Bags of Fun in the Bay area.
The mission of the Junior Board is to raise awareness, and generate financial support for Bags of Fun California. Bags of Fun California currently delivers Bags to children at Lucile Packard Children's Hospital and plans to expand to other Bay area pediatric hospitals as funding becomes available.
How you can help:
We are currently looking for sponsors, donors, grant opportunities and volunteers to help bring Bags of Fun to more children in the Bay area. For more information on how to get involved, please contact tammyk@bagsoffun.org
The Harker School Junior Board:
Arnav Joshi
Rohan Sonecha
Rohan Cherukuri
Nikhil Sharma
Nakul Bajaj