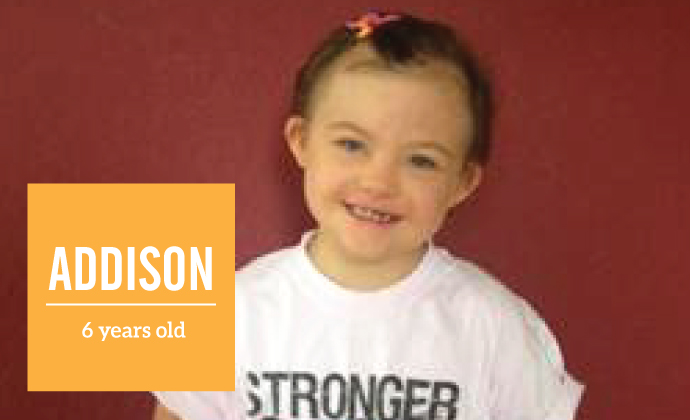 Addison (Addie) Arnold is a Down syndrome child who has been forced to face a number of life-threatening challenges. She was born with two holes in her heart that would ultimately require several major surgeries before her first birthday. Complications with those procedures resulted in ongoing heart and lung issues, and she spent the majority of her first few years on oxygen and medications to control severe pulmonary hypertension. Addie has always been at high risk for pneumonia, RSV and other illnesses, and was frequently admitted to Children's Hospital for weeks at a time during her earliest years because of her cardiac and pulmonary complications.
Two and a half years ago, just as she was starting to show progress with her heart and lung conditions, Addie received a devastating diagnosis of leukemia. Then, five months into her cancer fight, an MRI revealed that she also suffers from Moyamoya syndrome, a rare disorder that progressively narrows the arteries in the brain, causing seizures and strokes. To alleviate the symptoms of a stroke caused by the Moyamoya, Addie underwent a complicated brain surgery to help revascularize the   right hemisphere of her brain…all while continuing her cancer fight. She has overcome exceptional odds, and proved to be tougher than three life threatening illnesses. We are happy to report that she just finished chemotherapy in August, started first grade with her twin brother, Aiden, and they will be celebrating their 7th birthday in October.
Impact the bag had during the hospital stay:
Throughout all of Addison's struggles, there have been many welcome gestures of support for her and her family. We remember the day vividly that she received her Bag of Fun from volunteers and caregivers at the hospital. We were watching Addie be bombarded by IVs of toxic chemo, only to see her face light up at what seemed to be never-ending pockets of dolls, toys and other amazing and welcome distractions. It was an important show of support from strangers that we will never forget. Thank you for bringing joy to children like Addison during their most difficult days.