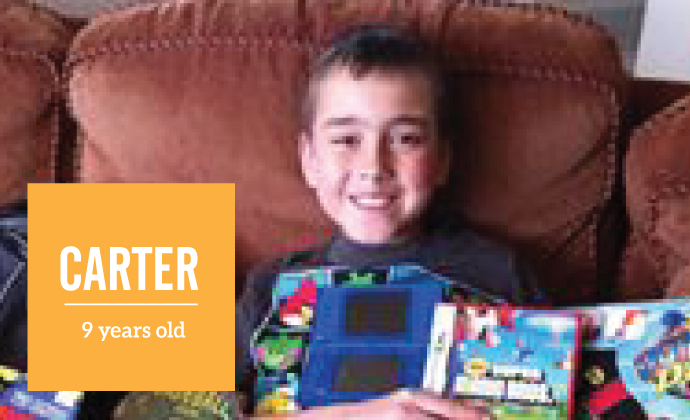 Carter is a typical 9-year-old kid. He loves LEGOS, playing basketball, swimming, riding his bike, the Denver Broncos, wood working, art, and playing with his sisters and friends. Carter is fun, sweet, thoughtful, kind, smart, responsible, loud, friendly, and compassionate. Carter's journey began when flu symptoms would not resolve, and his doctor ordered additional tests and x-rays, which discovered the diagnosis of T-cell acute lymphoblastic leukemia. Our family was told treatment would last 3 . years and chemo must begin immediately. Carter's treatment will end in the fall of 2016. For the last 16 months Carter has undergone spinal taps, a couple bone marrow aspirations, surgery, countless pills and steroids (as many as 24 in one day!) with awful side effects, countless blood and platelet transfusions, more chemo and different types of chemo than I can remember, radiation to his brain, many long hospital stays, fevers, upset stomachs, extreme fatigue, CT scans, echocardiograms, neuropathy and more needle pokes than most people will receive in their entire lifetime. Through it all Carter is an inspiration; a beacon of hope, courage, and love. He is the true definition of a hero. Carter wakes up every morning with a smile. He is strong, brave and more courageous than any man. Although this is an extremely difficult time for Carter and our family, he still finds plenty of reasons to smile.
The impact the bag had during the hospital stay:
Carter was absolutely overjoyed when presented with his Bag of Fun!!! Opening up his bag and pulling all the goodies out truly made his day!! He literally squealed with delight! He has had so much fun with his dart board, the silly mustaches (which he still uses today), and the Nintendo DS! Carter's Bag of Fun goes to every chemo appt. and hospital stay. In fact if you went out to our car right now you would find it loaded and ready to go in case of an unexpected hospital stay or for chemo.
Something special about Carter:
Carter's mantra is "attitude is everything"!! He truly lives his life with a positive attitude and he can find the silver lining out of any situation. Carter's laughter is contagious and his smile can light up the entire room.