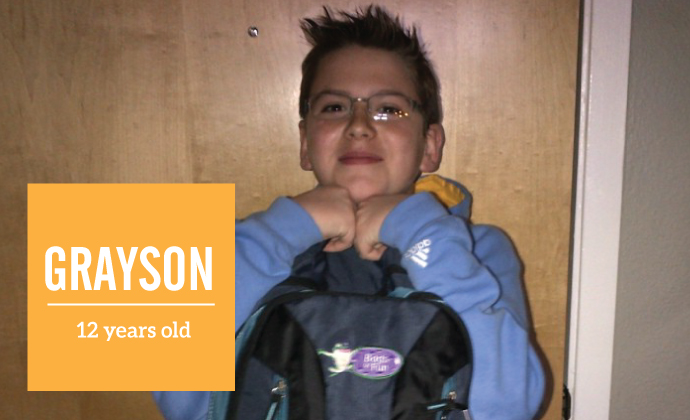 Grayson was officially diagnosed with Crohn's Disease roughly two years ago. He takes multiple medications several times a day, but they weren't knocking down the symptoms associated with CD. This disease causes daily stomach pain, joint pain, vomiting, flu like symptoms, etc. Grayson's had several flare-ups that we just couldn't get a handle on. His Dr., the fantastic Dr. Barrios at RMPGI, Grayson, and I finally decided it was time to begin Remicade Infusions to get the upper hand.
Impact the bag had on the hospital stay:
Grayson's second Remicade Infusion was December 26th. We walked into the wonderful RMHC Pediatric Outpatient Center and noticed a huge backpack on Grayson's hospital bed. We were told the bags are donated and it was just a coincidence that Grayson's bag arrived the day after Christmas.
We were told to look in every pocket of the bag for surprises. So, Grayson, shocked and smiling from ear to ear, proceed to open every pocket. He found chapstick, moon goop, card games, games of all sorts. Then he came to a pocket with a Mario Cart 3DS game.
"Oh!" (Grayson has an ancient Nintendo his big brother passed on to him.)
Grayson looked at me and said "Maybe we can exchange it or give it to someone here who has a 3DS?" I told him not to worry we would find someone who could use the game and to keep opening the pockets.
Well…
Grayson opened the main pocket and there was a brand new Mario Cart Nintendo 3DS. Oh. My. Gosh!!!
Grayson picked it up and just stood there with a massive grin. He didn't know what to do. He looked at me and I looked at him and we both just started laughing and he was bending over at the waist laughing so hard because we couldn't believe this was in the bag. Of all things to find – he found the one item he's wanted for several years!!
Here was my son, trying to be as positive & strong as he can, preparing for his second in a long line of infusions for a disease that is kicking our butts (but we will get the upper hand!!) and because of you he was able to smile and laugh out loud. I will never forget his reaction to seeing the 3DS. The smile on his face was of pure delight, joy and surprise!