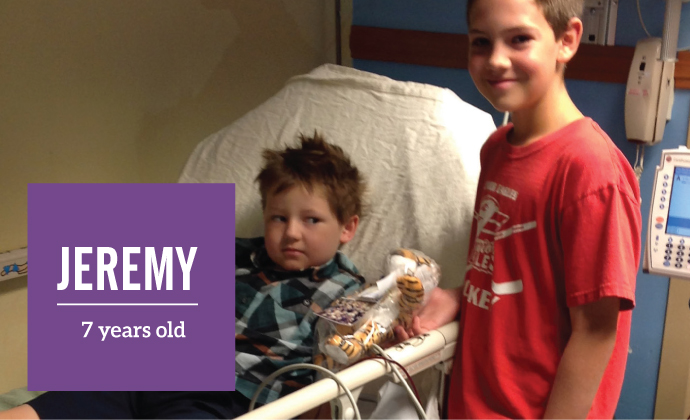 In 2014, Jeremy was diagnosed with stage III T-Cell lymphoblastic lymphoma, a form of non-Hodgkin's lymphoma. Jeremy's lymphoma is incredibly aggressive. This means that it is fast-growing and requires extensive treatment and routine follow up with his oncologists. Currently Jeremy undergoes infusions three times a week. Exhausted and fatigued by his treatment regimen, Jeremy often receives blood and platelet transfusions to bolster his immune system. In total the family spends approximately 20-25 hours at the hospital each week. Pending clear scans and lab work, Jeremy's last treatment is tentatively scheduled for mid-December 2014.
As a typical 7 year old boy, Jeremy was often disinterested in his monotonous physical therapy exercises and routine. After reading about the physical benefits of karate, Jennifer, Jeremy's mom, enrolled him in a weekly class. Not only has Jeremy's foot drop improved, but also his quality of life. Jeremy's karate lessons allow him an opportunity to socialize with his peers, interactions he has sorely missed, as his diagnosis and treatment have kept him from school this year.
The impact the bag had during the hospital stay:
I love my bag, especially the Nintendo. I almost passed out when I opened it. There's also a funny cow that shoots a ball out of his mouth, and a batman game for my Nintendo. Now we use the bag to carry my homework to and from the hospital each day.