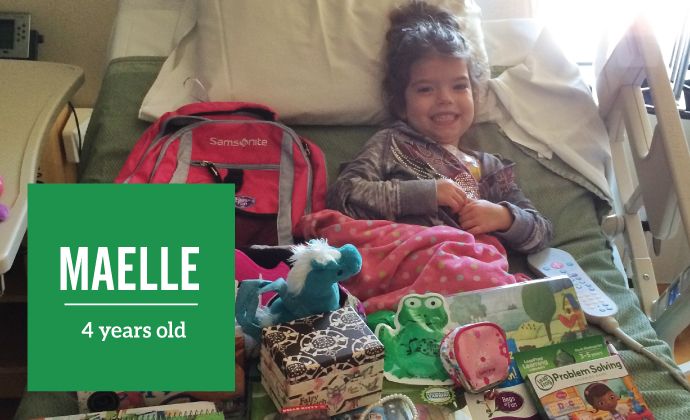 Maelle had headaches for over 2 weeks before the eye doctor dilated her eyes and told us to get to the ER for an emergency MRI. Within 4 days she had a biopsy, a shunt placed and was diagnosed with pilocytic astrocytoma (a tumor on her optic nerve). A week later she received a port for her chemotherapy treatments. She is now going through a year of chemo treatments to prevent the tumor from growing.
The impact the bag had during the hospital stay:
Arriving at chemo for her first time was scary for her and nerve-wracking for us but your kindness over shown all of that. I was in tears when her nurse came in with the bag stuffed to the brim of goodies. We are forever grateful for your organization and the kindness that you showed to our baby girl. Thank you so much for giving her something to look forward to each week.
Something special about Maelle:
She is a performer at heart. Give her 5 minutes and she'll sing for you and dance to all of her favorite songs from Luke Bryan's "Play it Again" to Taylor Swift's "Trouble".