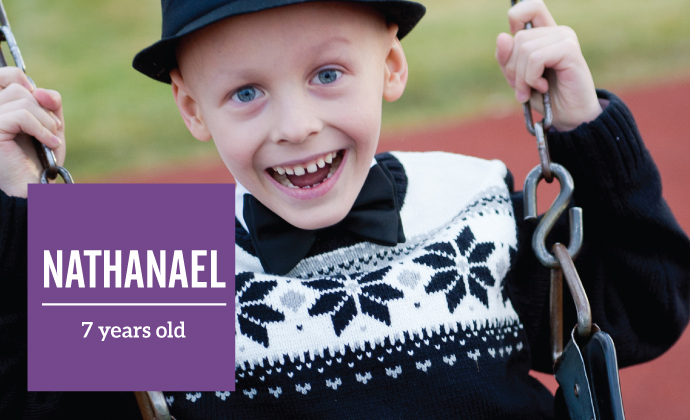 Nathanael was 5 years old January 15, 2013 when a tumor was discovered in his right kidney. January 16th they removed his kidney along with the tumor and confirmed what they suspected, he was diagnosed with stage 3 Wilms tumor. It is a type of pediatric kidney cancer otherwise known as nephroblastoma and is rarely found in adults.
A couple weeks later he started chemotherapy. Scared and not sure what to expect over the coming months, it was a joyful surprise when Nathanael received his "Bag of Fun". He tore through it soaking up all the love that was poured into it just for him. He spent an hour running a tiny remote control car under the hospital door just because he could, and the Leapster GS provided hours of interesting games for him on the long days. The high quality bag was tossed in and out of the car for almost every treatment and hospital stay. We kept things he wanted and other necessities in it. His Bag was a constant in his fight against cancer.
In June of 2013, he finished up his 6 months of chemotherapy; however his end of treatment scans revealed his cancer had spread to his lungs. There was a tumor in each of his lungs. A few days later he was admitted for surgery to remove one tumor and change from one port to another. With the relapse he had 8 radiation treatments to his lungs and a couple new chemotherapy drugs were added. The next 7 months were brutal on him and our family. During one of the hospital stays his counts were at zero and he picked at a hangnail. Such a simple thing ended in surgery for a very infected finger and a new addition to his "Bag of Fun" – nail clippers were put on the key fob to avoid any more nail picking. Several more months of treatments and hospital stays, he finished treatment in February 2014 and much to our relief his end of treatment scans showed NED. No evidence of disease! His 3 month scans also showed clear! As we head into his 6 month scans this month (September 2014), we are so blessed at how far he has come and thankful that Gabby's Bags were able to be a part and help Nathanael through his journey!