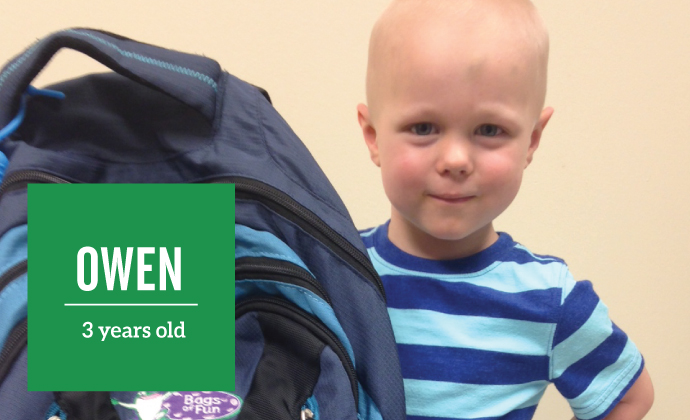 Owen is a loving, bright, and active 3 year old. Anyone who meets him can see the joy in his heart. He was diagnosed with high risk B-cell Acute Lymphoblastic Leukemia at 2 years old in December 2013. He has been through aggressive chemotherapy, many procedures, and many hospital stays. Through it all he still has a smile on his face and is as sweet as can be. He has been brave, strong, and a true superhero.
The impact the bag had during the hospital stay:
Owen received his Bag of Fun a few weeks into treatment. We were still lost in this new journey and trying to figure out how we would get through this. Seeing Owen's face light up when our nurse brought us the bag was just what we all needed. It brought happiness to Owen. As parents it brought us hope and made us realize we can get through this. We use the bag daily. Take it to every appointment filled with toys, medical necessities, paperwork, and of course Owen's blanket. It is the reminder of that moment, that moment of happiness and hope when we needed it. Thank you!